DESIGN #BR-101
Fiberglass Composite Column
SCROLL FOR MORE INFO
TAKE YOUR PROJECT TO A HIGHER LEVEL™
CUSTOM SIZES AVAILABLE
HAS (20) AUTHENTIC FLUTES
WORLDWIDE SHIPPING
BOXING, CRATING OPTIONS
UNMATCHED
CUSTOMER SERVICE
PREMIUM LEVEL DETAIL
BROCKWELL. SHOP WELL.
Preferred Column by Architects
SIMPLY BEAUTIFUL
Form & Function
at its Finest
Our Design #BR-101 fiberglass composite fluted, tapered Greek Doric columns showcase true architectural authenticity. Established by the Ancient Greeks, Doric columns were utilized, simply, for a column's most basic function – to support weight, to be structural.
Brockwell's Greek Doric mimicks the simple, classical column design, in which (20) Doric flutes adorn the column shaft. Our fiberglass composite material is durable, weather and insect-resistant, and will never deteriorate. We stay true to Classical function in order to provide you with columns that are robust in stature and will add accurate timeless beauty and sophistication to your project.
READ ABOUT THE DORIC ORDER ⟶
Dimensions are nominal. A Greek Doric column does not have a base molding / plinth, which is architecturally correct.
Capital & Shaft 
Greek Doric | Fluted, Tapered, Round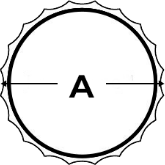 Our fiberglass composite columns can be split in half to wrap around your existing structural posts. The clearances within the chart are tightly calculated, and - in many instances - we are able to increase the interior clearance to accommodate larger post sizes. Please contact a Brockwell Associate to verify.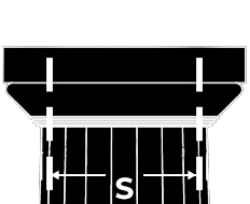 *Column
Size
Interior Round
Clearance
Interior Square
Clearance
Inside Diameter
(top of shaft)
S
22"
15-3/4"
11-1/8"
16"
23"
15-3/4"
11-1/8"
16"
24"
15-3/4"
11-1/8"
16"
25"
19-3/4"
13-15/16"
20"
26"
19-3/4"
13-15/16"
20"
27"
19-3/4"
13-15/16"
20"
28"
19-3/4"
13-15/16"
20"
29"
23-3/4"
16-3/4"
24"
30"
23-3/4"
16-3/4"
24"
31"
23-3/4"
16-3/4"
24"
32"
23-3/4"
16-3/4"
24"
* Column Size = bottom diameter of column shaft.
NOTE:It is important to inform a Brockwell Incorporated sales associate of both the shape and the size of your existing supports that will be wrapped. We recommend splitting be done at our facility to ensure there will be adequate interior spacing for your post. When full round columns are ordered, it is inferred that they will be installed as load-bearing components.
Split columns are
not load-bearing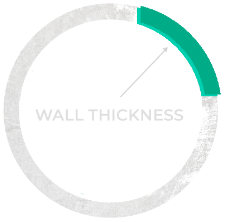 *Column
Size
Average Wall
Thickness
22"
5/8"
23"
5/8"
24"
5/8"
25"
5/8"
26"
5/8"
27"
5/8"
28"
5/8"
29"
3/4"
30"
3/4"
31"
3/4"
32"
3/4"
* Column Size = bottom diameter of column shaft.
These load-bearing capacities are representative of installation that implements concentric distribution of
weight -- where the load is distributed through the center of the column.
  *Column
Size
Load-Bearing
Capacity [max.]

22"

20,000 lbs
23"
20,000 lbs
24"
20,000 lbs
25"
20,000 lbs
26"
20,000 lbs
27"
20,000 lbs
28"
20,000 lbs
29"
20,000 lbs
30"
20,000 lbs
31"
20,000 lbs
32"
20,000 lbs
* Column Size = bottom diameter of column shaft.
PLAN SHAPES
---
SHAPE A
FULL ROUND
SHAPE B
CORNER ROUND
SHAPE C
2/3 ROUND
SHAPE D
HALF ROUND
SHAPE K
3/4 ROUND
SHAPE L
SLIDE-ON ROUND
SHAPE S
SPLIT FOR REASSEMBLY
CUSTOM SHAPE ?
YES, CONTACT US ⟶
Composite mixture composed of fiberglass, polyester resin, and marble dust (calcium carbonate filler). Paint-grade & Load-bearing. Has a Class A fire rating.
The capital is made from this material as well.
Spun cast from our existing column molds. Because of our rotational manufacturing process, the composite mixture will solidify into a durable, hard cast-stone-like surface.
We are able to create custom column molds that match your specific size and/or shape requirements. Contact an experienced Brockwell associate to review your specifications.

(P): 980.282.8383

E-mail Us
We aim to make your column ordering experience uncomplicated. Simply let us know the following info when contacting a Brockwell associate:
1.) Reference Column Design #BR-101
2.) Specify the Quantity
3.) Specify the Plan Shape(s)
4.) Diameter – at the bottom of the column shaft
5.) Overall Height of the column(s) – includes the column shaft, the capital & the base.
6.) For Exterior or Interior use ?
7.) Project Type – i.e. Residential, Commercial, Government, Historic Renovation, Film & Television, etc.
8.) The Shipping Zip Code
9.) Specify any important project details

(P):
980.282.8383
(E):
sales@columnsdirect.com
After you have thoroughly reviewed your quote and are ready to order, please submit the following two (2) items:
1.)
The signed last page of your quote
2.)
Your payment
Terms:
On all orders less than $5,000 - full payment is required at the placement of your order. On orders over $5,000 - half of the total amount must be prepaid, and the balance is due before shipment unless prior arrangements have been made.
View Terms page
Payment Methods:
We accept American Express, Visa, Mastercard & Discover. For credit card payments, you will need to complete and return our
Credit Card Authorization Form.
We also accept checks and wire transfers. For wire transfers, we will provide you with Brockwell Incorporated's wiring information.
**Please Note: Your order will not be started until we receive both your signed paperwork and payment.
After you place your order, we will submit it to our production department to begin making. You will also receive an order confirmation to have for your records.
Will not rot, and is insect, moisture & weather resistant

Perfect for projects near water

You will receive a premium level column

Adds value to your project

The solution for replacing your rotted exterior wood columns

Authentically-accurate column design

Has a Lifetime Warranty

Great for Interior & Exterior applications

Adds a classical touch to your project

Full round column is load-bearing

Capital made from the same material as the column shaft

Great cost alternative to wood columns

Smooth column shafts are also available

Easy installation & finishing

Work with top-level industry associates

All components manufactured in the USA

We ship globally
Request a Free
Material Sample

Thank you! Your sample request has been submitted. A Brockwell associate will be packaging your sample shortly.
This field is required
This field is required
This field is required
This field is required
This field is required
980.282.8383
It is our pleasure to assist you with your project